Backing it up
So, finally hit my duration target last week. But the question is now, can I back it up!? I actually found it harder to come back after a day off and Monday started pretty slow.
I also travelled to Coffs Harbour this week for the Rally Australia launch, so had to juggle a few things around to fit in with travel. Target was to nail 3 x sessions of each swim/bike/run this week. This meant a late swim post flight, one of my bike sessions on an indoor trainer and a run interval session (normally done at a running track) on a treadmill. None of these sessions were particularly enjoyable, but generally more satisfying at the end.
As a highlight, the weekend was packed with one of the most scenic rides I have ever done. From the city through the Royal National Park to Bundeena, followed by a ferry across to Cronulla and a return trip to the city via some new cycle paths I've not properly explored before.
For any cyclists in Sydney, here is the route:
https://ridewithgps.com/routes/24809178
https://ridewithgps.com/routes/24809338
The route wasn't easy, but definitely not as challenging as last weekend. Although, the added challenge this week came in the form of my first decent paced (only 3km) run off the bike. It's the oddest sensation trying to run after sitting on a bike for almost 4 hours. Your legs feel incredibly heavy and my calves felt like they had completely seized up. I managed 15 minutes, with the goal to increase this each week by around 5 minutes so I get used to backing up the cycling leg.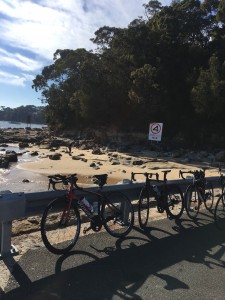 I also got in a long run Sunday, which I didn't manage last week. It was super slow and I didn't feel particularly great, but hey, I did it!
Take-away from this week: My main lesson from this week was that not every session has to be super intense. I'm trying to keep my consistency and duration up, but I can't keep the intensity up at the same time. Rather than skipping sessions completely, I took some easier, had more rest or reduced the overall distance by a little bit. I'm hoping this is where improvements will come in the future.
Monday
AM Bike session on the indoor trainer

Pretty cruisy, 60 min, with 4 x 5min hard, 5min easy

Tuesday
AM 15 minute bodyweight circuit in hotel – just to wake up!

PM Swim – 1.5km

Wednesday
PM Track session on treadmill

8 x 400m efforts with 1km easy either side

Thursday
AM Club Bike session

Tempo reps of Centennial Park with hill effort + COFFEE

PM Swim

Tested my 400m and 200m in the pool. At least I've set the benchmark low….

Friday
AM Tempo run

1.5km efforts.

PM Ocean swim

Finally cracked the 2km!

Saturday
AM Bike ride + 15min run off the bike

86km through Royal National Park, Bundeena, Cronulla… Beautiful!

Sunday
AM Slow run

80 minutes slow and steady

Totals
11 hours, 15 min

Training Stress Score: 738.9